It's been about a month since the internet was buzzing about The Grid. Casual retro gamers in the area were excited about a convenient new place to find retro games for market value. And hardcore retro game collectors were their typically enraged selves– upset that they weren't going to be able to find retro games at their Goodwill stores for the dirt cheap prices that they believe they're entitled to.
Before Reddit blew the story up, the small store in Charlotte, NC had on average two or three local customers there at a time. Often college kids, they would walk in and excitedly sift through shelves full of retro games, talk about all the enjoyment they had playing those games as a kid, occasionally screeching, "Ohhh I remember this!" Then they'd leave empty-handed, promising they'd come back when they had more money.
Then Reddit caught on, and several game publications began posting stories about it. And for one week, the store was packed to the brim with gamers and collectors from around the southeast, snatching up all the goodies they could find– all at market price. As soon as The Grid's employees put out items, they'd sell within hours, and the collection of worthwhile games grew thin.
Then, after one week, the crowds completely ceased, and it was back to two or three locals at a time.
Those who have kept up with my blog know that I had shopped at The Grid long before it opened. Because before it was a newly-branded electronic hub called The Grid, it was a used electronic store called Goodwill Computer Works, located in the ghetto in Charlotte 12 miles away from its current location. 
I discovered this place in 2010, and stopped by there a couple times per month, finding tons of gems like this Legend of Zelda test cartridge. Back then, since few people were willing to get robbed in order to visit the Goodwill Computer Works, I was frequently able to find great stuff. It later moved next to my apartment, and since then, I've still been able to find a lot of great deals– often for about 80 percent of the market value.
The employees there are super friendly. The prices are almost always fair. And the environment is modern and well laid out. I find games there that I wouldn't normally be able to find at retro game stores, and they keep their games in great shape. Often, you can find boxed game consoles for great deals (my boxed Sega Genesis was $30). And the turn-over rate for the electronics is always fast.
I recently walked in and scanned nearly the entire store. While I had my eyes on a couple more modern games, I walked with my heart set on some NES games. I spent $50. Here's what I found: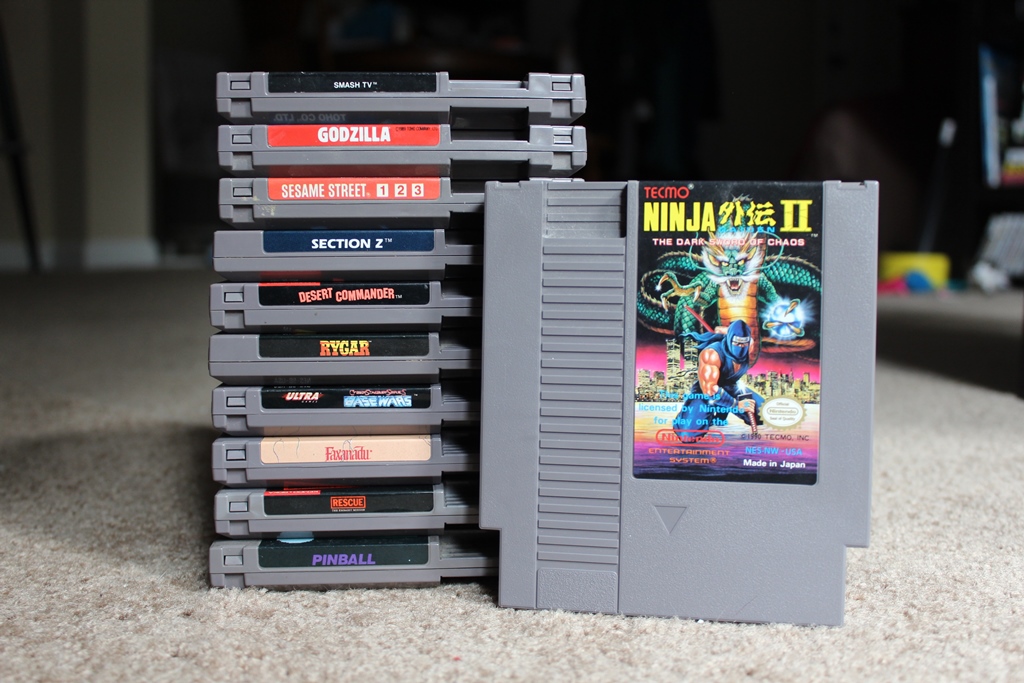 Two of these eleven games (Pinball and Sesame Street 1 2 3) were from my collector friend. I traded him some NES boxes and a Jungle Green N64 for a boxed Intellivion II and a stack of boxed Intellivision games. And he sent me the two NES games as a bonus. 
UPDATE: I just realized that I already owned Pinball. So this haul is comprised of ten new additions to my NES collection.
The rest came from The Grid. I'm most excited about having Godzilla, Smash TV (the only game in this stack that I've played) and Ninja Gaiden II. They also had Ninja Gaiden III, which is the last Ninja Gaiden that I need from the trilogy. But for $35, I decided to hold off until I could find it for cheaper.
I've never played Faxanadu, but I'm looking forward to popping it in. I know that it's a an action role-playing platform-adventure, but that's about all I know. I've seen it in other collectors' collections, and it seems rather common, since it was distributed by Nintendo. But I don't know if people generally regard it as a good game. But it's always fun to play a new game with minimal expectations.
Rygar and Section Z are also two really strange-looking games that I've never played before. Both were originally arcade games released in the mid 1980s and both have really bizarre plots.
Godzilla is awesome to have just because it's Godzilla. The Angry Video Game Nerd game me a few reasons to be skeptical about playing this one. But I plan to nonetheless. Godzilla is the more common of the two Godzilla games released on the NES. Godzilla 2 is currently valued at about $65. 
Like I mentioned before, The Grid will frequently have great deals if you look for them. These nine NES games were all in fantastic condition and cost about $50. And better yet, half of them came with manuals. Like I mentioned in last week's post, I am keeping my NES collection cartridge only. So these will be traded or given to my collector friends.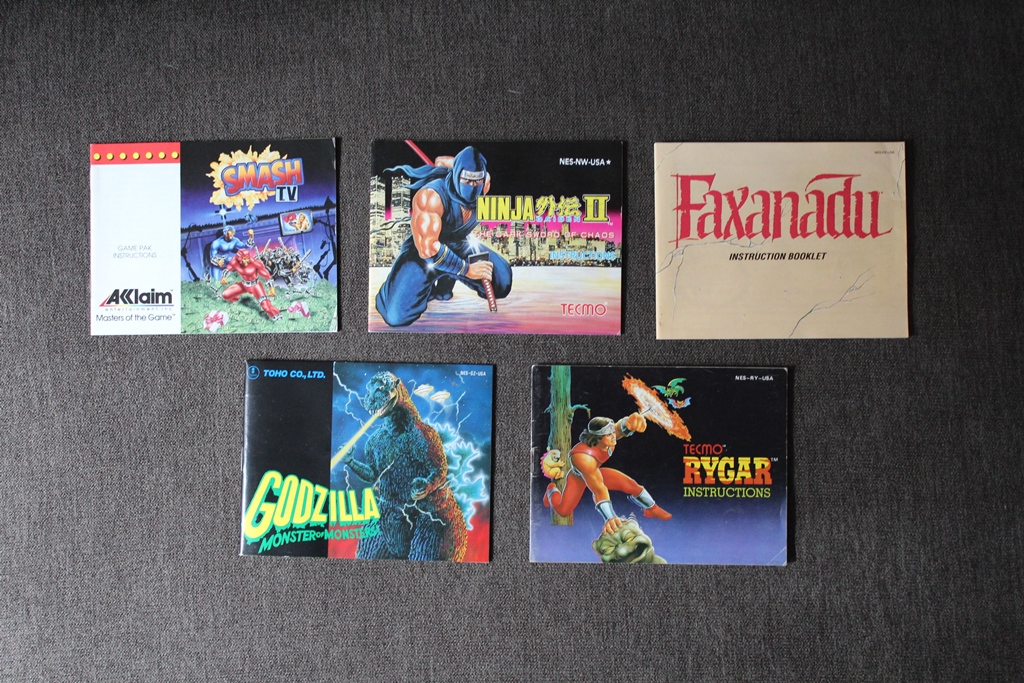 This brings my collection from 106 to 116 loose NES games (and a handful of manuals). For the rest of the entries of NES Quest, check them out right here on Retro Chronicle.